Within any successful team, you'll find unsung heroes. They don't seek the spotlight, but their contributions are undeniable. You could even say they're the glue that holds everything together.
In this article, we're going to talk about two unsung heroes of a membrane switch: the spacer and mounting adhesive. While these layers may not get as much attention as the faceplate and printed circuit, they are equally crucial in creating a compact, user-friendly electronics control panel.
Plus, since both of these components involve adhesive, material selection is vital for performance and durability. That's why here at Tapecon, we frequently recommend and convert 3M™ membrane switch products and transfer tapes.
Benefits of 3M membrane switch adhesive products
A typical membrane switch is made of six layers. Each layer must be both thin, precise, and rugged, which is no easy task. Through years of innovation and testing, 3M has developed a line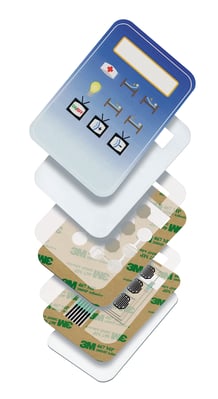 of adhesive products for the unique demands of membrane switches. These materials offer design flexibility, high shear strength, impressive durability, and a range of thicknesses.
Membrane switch spacers
The spacer layer inside a membrane switch performs several roles, making this component very important. The spacer is die-cut to accommodate the buttons, indicator lights, or backlighting. The openings prevent the buttons from sticking when pressed down by the user. The spacer must also be durable and resistant to harsh environments.
3M offers a line of tapes specifically designed for membrane switch spacers. These products are ideal for a range of indoor and outdoor membrane switches, including appliances, consumer electronics, medical devices, fitness equipment, industrial machinery, and more.
Benefits of 3M membrane switch tape include:
High shear strength for maximum switch actuation life
Superb resistance to chemicals such as cleaners, detergents, and solvents
Ability to withstand extreme weather
Enhanced backlighting
What's more, 3M's tapes make membrane switch production easier and more reliable. The unique lay-flat liner allows for more accurate die-cutting and tight edges. 3M's acrylic adhesive is ooze-resistant, further accelerates manufacturing and reduces the chances of warping, lifting, or buckling.
Mounting adhesive for membrane switches
Once the membrane switch is constructed, it will need to be placed and secured into the device or user interface. The mounting is typically done with adhesive transfer tape.
This type of tape has a thin layer of adhesive with a release liner (no carrier). The adhesive side is placed to the back of the membrane switch. When it's time to mount the membrane switch, the liner is pulled back, exposing the adhesive, which is then placed in the desired location for bonding. Transfer tapes make assembly easier and are excellent at conforming to irregular surfaces.
Converting partner for membrane switch adhesives
At Tapecon, we believe that no layer should be overlooked when creating a custom membrane switch. With our materials expertise, we can help you select the optimal adhesive products based on the substrates, environmental conditions, and other factors. Plus, as a 3M Preferred Converter, we offer the highest level of converting expertise using the industry's leading materials. Whether you need a spacer, mounting adhesive, or complete membrane switch, our team is ready to make it happen.
Let's make something great
With over 100 years of manufacturing experience, Tapecon works with product teams to solve challenges, create products, and enhance lives. Learn more about our membrane switch applications.
Subscribe To Our Monthly Newsletter