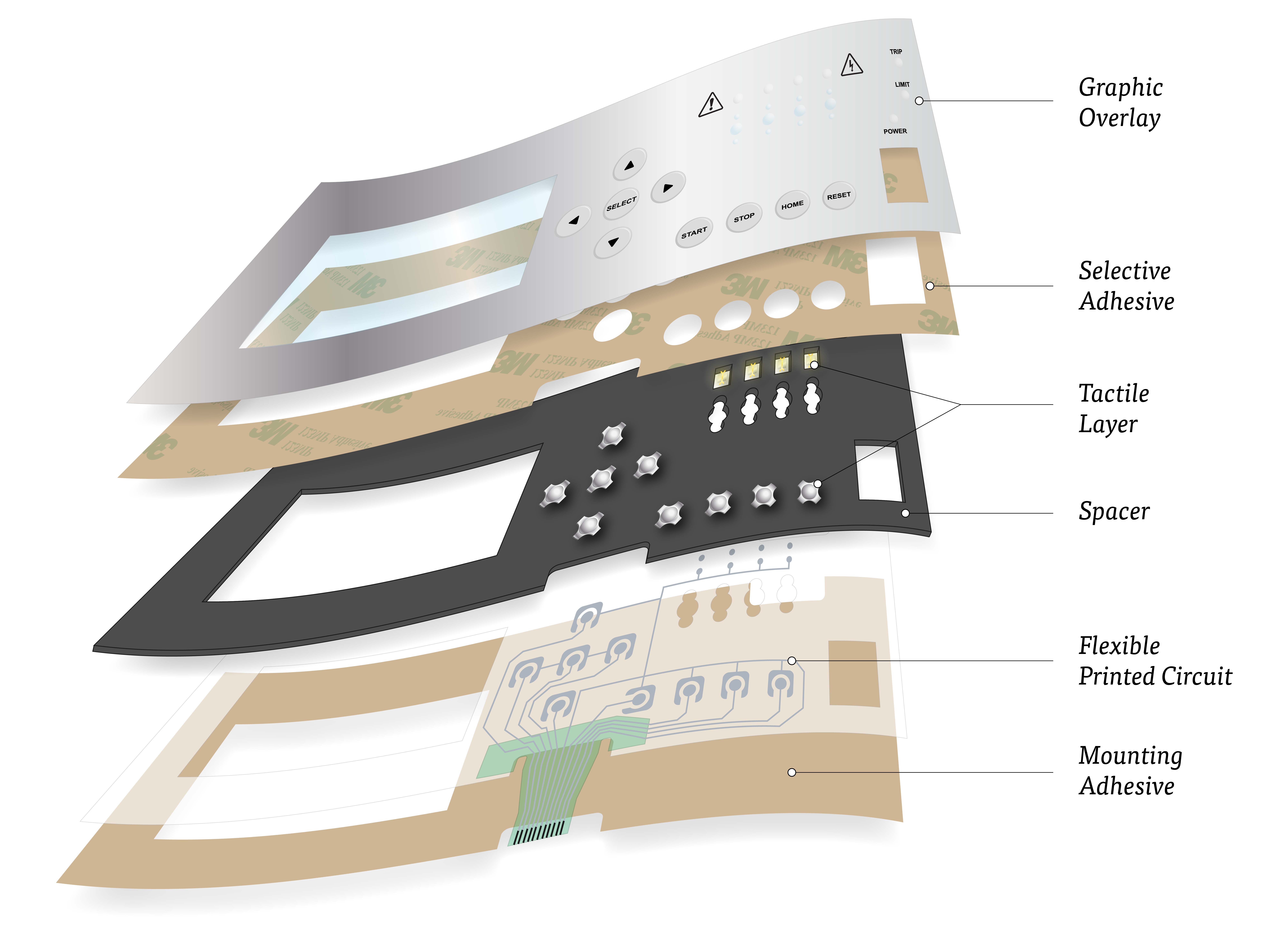 What is a membrane switch?
Made from a flexible substrate, a membrane switch is an electrical controller that turns a circuit on and off. This application combines a graphic overlay and electrical switches into one integrated unit.
Compared to a traditional manual switch, membrane switches are thinner and have fewer limitations. Because of their greater design flexibility, membrane switches are excellent for creating user-friendly, modern-looking control panels.
Uses for Membrane Switches
Membrane switches can be found in countless products in various industry applications. They can be used in any design that requires a compact, functional interface.
Consumer electronics
Improve the look and feel of remote controls, washing machines, air conditioners, and virtually any other consumer electronics product.
Medical equipment
Ensure simple and reliable operation of medical devices used in hospitals and in homes.
Industrial equipment
Rugged, water-resistant, and cost-efficient, membrane switches are in high demand for industrial applications.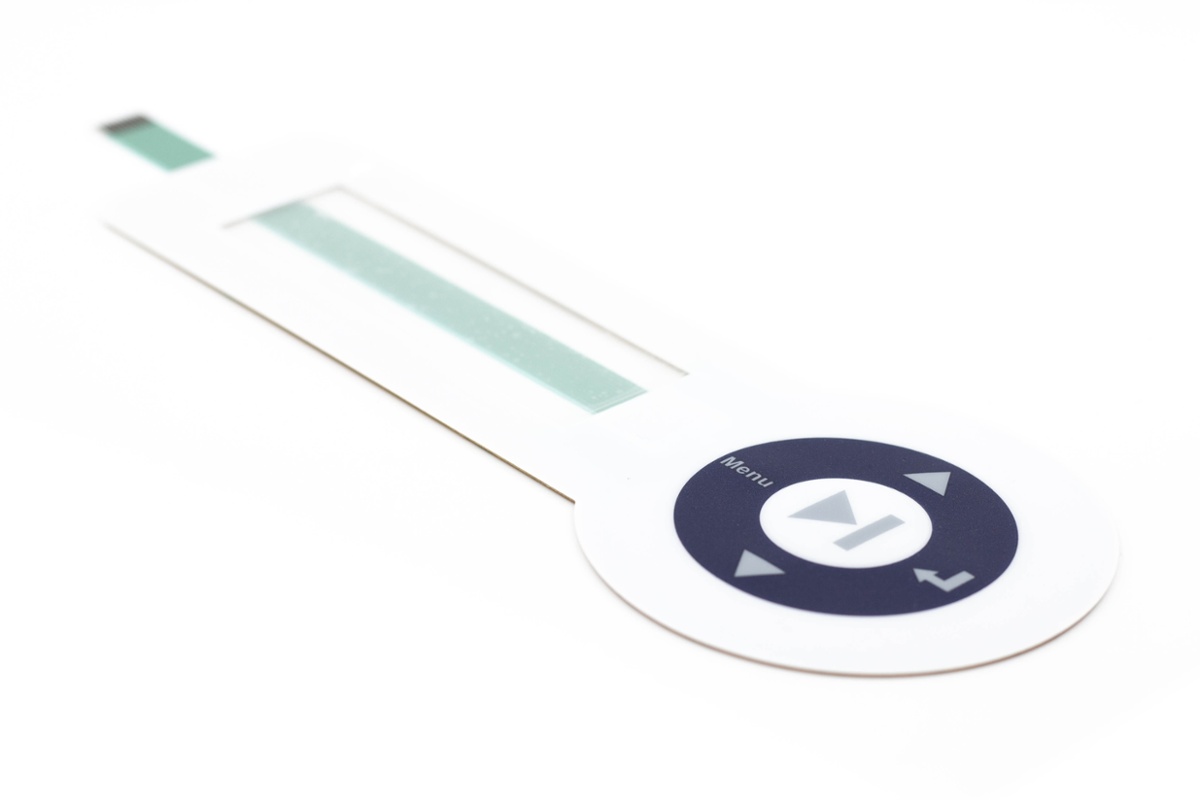 Expertise from start to finish
From design to testing to manufacturing, Tapecon provides insights and adds value to your project. Our talented designers and engineers work together to understand the full scope of your requirements, then use CAD and other advanced software to develop an intelligently designed solution.
When it comes time for production, you can count on our skilled personnel and ISO-certified facility to deliver industry-leading quality of your final application. We also offer custom inventory management solutions to ensure your membrane switch is readily available when you need them.
Achieving the right feel
When designing and manufacturing a membrane switch, an important consideration is the keypad to create a comfortable, consistent experience for the user. At Tapecon, we can produce both tactile keypads that deliver a click when pushed, as well as non-tactile keypads that offer other feedback. We also offer textured coatings to accomplish a specific feel.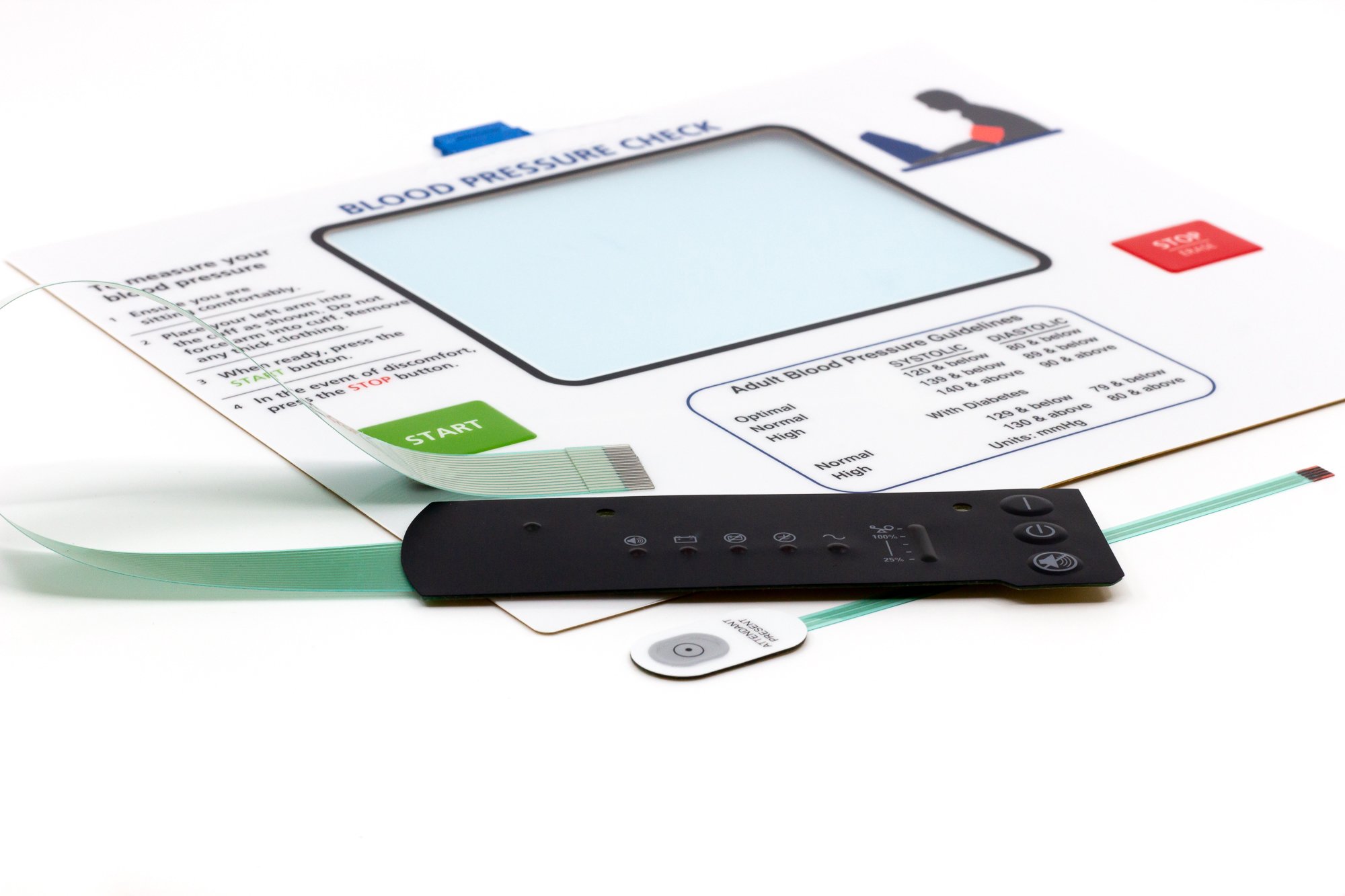 More Options, More Possibilities
Beyond the basic requirements of membrane switches, Tapecon offers an array of options and enhancements to create the ideal electrical components for your product design. We always enjoy pushing the envelope and developing novel solutions for our customers.
Racetrack, pillow, or custom embossing
ESD, RFI, and EMI shielding
Hybrid PC board or switches
Modular, edge, or pin connectors
Applications and Services
If your design calls for a membrane switch, you may also be interested in learning about other ways Tapecon can improve your product.
Let's Get Started
To learn more about partnering with Tapecon, fill out this short form and a Tapecon representative will follow up with you as quickly as possible. As a fifth-generation family business, we pride ourselves on being trusted manufacturing partners for our clients, and we look forward to working with you.
"Tapecon reviewed our proposed design and gave us prompt professional assistance."
Research Engineer
"Great interaction and professionalism for a start-up product component."
Supply Chain Consultant
"Good communication from customer service."
Purchasing Manager
"What my company appreciates most is their flexibility should we need an order or a partial sooner than the due date at the time of order submission. These attributes make them stand out in their industry!"
Senior Buyer
We regularly publish content to serve our fellow colleagues in the advanced manufacturing industry.