Set it and forget it. While sounding convenient, it's not always a practical approach for certain products and applications. In the real world, it can be more valuable to have the ability to set, remove, and reset as necessary. That's precisely where 3M™ Dual Lock™ Reclosable Fasteners comes in.
Dual Lock is 3M's line of high-strength, reusable fasteners. Think of these products as industrial versions of the hook-and-loop strips used on clothing and other everyday applications. However, 3M takes reclosable fasteners to a whole new level with Dual Lock.
How Dual Lock works
The key to Dual Lock is an innovative interlocking design. When both sides of Dual Lock tape are applied together, mushroom-shaped heads interlock and snap into place, providing five times the tensile strength of traditional hook-and-loop fasteners.
But that's only half the story. While the mushroom-shaped heads provide a stronger hold, Dual Lock can still be easily peeled apart when needed. In fact, Dual Lock is designed to be reattached up to 1,000 times before losing half of its original tensile strength.
Dual Lock tape is also backed with a pressure-sensitive adhesive that can be easily applied to the mounting surface and forms a strong bond.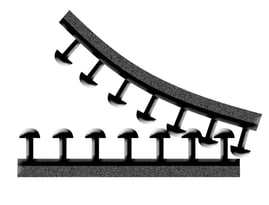 Benefits of Dual Lock
In addition to being exceptionally easy to use, remove, and reapply, Dual Lock offers a wide range of benefits:
Lightweight – Dual Lock is a lighter alternative to mechanical fasteners such as screws, bolts, rivets
Sleeker appearance – Adhesive-backed tape eliminates holes, visible fastener heads, and other marks that can detract from the product's aesthetics
Ability to join dissimilar materials without corrosion or contamination
Added vibration dampening
Resistance to extreme temperatures, moisture, and UV light
Durable and easy to maintain – dust and debris can be removed by spraying air or water
Typical applications of Dual Lock
So, what can you use Dual Lock for? Just about anything, really. Dual Lock really shines in applications where a component needs to be securely attached but requires quick release for easy access or maintenance. A few examples include:
Access panels
Changeable signage or display units
Interior attachment for specialty vehicles
Solar panel attachment
General industrial attachments
Small or accessory attachment
Considerations when selecting 3M Dual Lock Fasteners
3M's Dual Lock Series offers a variety of reclosable fasteners to ensure high performance for various applications and substrates. Here are some options and considerations when selecting the optimal product for your needs.
A variety of pressure-sensitive adhesives are available, including rubber, acrylic, and non-adhesive, to create a secure bond with many substrate materials.
Low-profile products are available, which are about half as thick as standard 3M Dual Lock Reclosable Fasteners
The starting point for determining the quantity of Dual Lock tape necessary for your application is four square inches of fastener per pound of static tensile or shear load. You may need more or less tape depending on the application and substrates involved.
Dual Lock offers high direct tensile strength and strong shear but is not well-suited for peel or cleavage stresses.
A roller is recommended during application for secure adhesion.
Converting partner for 3M Dual Lock Fasteners
At Tapecon, we have extensive experience helping customers get the most out of this impressive reusable fastener tape. Our materials expert can recommend the optimal Dual Lock product based on the required holding strength and the adhesive most compatible with the substrates and environmental conditions. We can also perform testing to validate closure strength and adhesive performance. Finally, as a 3M Preferred Converter, we can cut a Dual Lock tape into custom shapes and sizes to fit precisely within your application.
Let's make something great
With over 100 years of manufacturing experience, Tapecon works with product teams to solve challenges, create products, and enhance lives. Learn more about our custom materials converting capabilities.