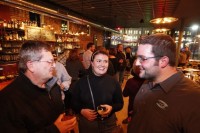 As the economy in Buffalo continues to grow, many new businesses are forming to support the transformation and history of our city. The Hydraulic Hearth is one of these emerging businesses that represent our region's resurgence.
Tapecon's Greg Davis was spotted at the new restaurant, located at 716 Swan Street. The Hydraulic Hearth is located across the street from Tapecon, in Larkinville. Patrons often remember Hydraulics District's landscape before the Kamman Building and re-purposed Filling Station. Remnants were recollected of the rubble that was the Larkin Administration Building. Many recall stops at the Swan Lounge once found in the Hearth's footprint. This is just a little bit of history that is rebuilding our economy today.
Tapecon has been located in Buffalo since the beginning of the business, founded in 1919. We are proud to support Buffalo's past, present, and future. We support the economic growth and history of our city. We are proud to support Hydraulic Hearth and wish them great success!
Click here to read the full story published by The Buffalo News