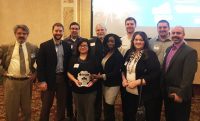 Tapecon was recently awarded the 2017 Manufacturing Award for Dream It Do It, for their work toward educating about manufacturing and working to improve manufacturing workforce in Buffalo.
Tapecon is working on a new initiative to teach Buffalo high schools manufacturing skills. The goal is to schedule 1-2 field trips for students per year, informing and teaching about manufacturing technologies and career opportunities.
Company representative, Bukky Mallia, works closely with Kathy Heinle the Director of Career & Technical Education at McKinley High School to implement the training and workforce development plan with the school. Tapecon is also working with Buffalo Niagara Partnership, FTA, Phoenix challenge and Mark Andy to build a plan in which will allow a flexographic press to be installed in a local school. This plan will send a teacher to training on how to use the press and allow the school to add advanced Printing Manufacturing technologies to their curriculum.
Tapecon also participated in "Engineering Days" with BMNA by providing factory tours for Burgard High School, and Sweet Home High School; also with the objective to teach manufacturing skills and encourage careers in manufacturing. Bukky and Tapecon President, Steve Davis, participate in BNP Employ Buffalo Niagara Workforce Development Initiative, a coalition of community leaders coming together to fine tune workforce development efforts in Western New York.
Bukky represented Tapecon at Workforce Investment Board meetings to help with recruiting for the new Certified Production Technician program through Erie 1 Boces. This program is for students of all ages, and provides you the skills to obtain employment as an entry level Certified Production Technician. A paid work experience will be provided through Goodwill Industries of WNY, Inc. to prepare students for employment in Manufacturing.
Contact Tapecon to learn more about manufacturing career opportunities.