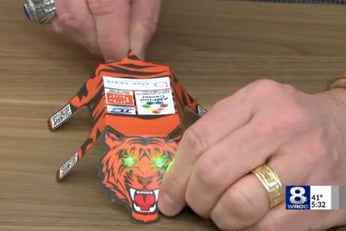 In honor of National Engineers Week, RIT hosted a family day with activities for middle schools students and their parents. Families were invited to tour a mechanical engineering machine shop. Here, they worked with the staff at the AMPrint Center to assemble printed electronics printed on paper, to be folded into tigers that had LED eyes and lit up.
Chief Scientist and Director of Business Development at AMPrint Center, Bruce E. Kahn, Ph.D, explained to the students and their parents that printing can be used for more than graphics, publications, and magazines; printing can be used to make things electronically functional.
The printed electronic tiger was first printed on stock paper at the AMPrint Center at RIT, and then sent to Tapecon, where conductive silver ink was used to screen print circuitry on the back side of the tiger. Tapecon also screen printed registration marks for positioning of the battery. Once screen printing of the electronic conductive ink was completed, the Tigers were returned to the AMPrint Center where they were laser cut and batteries supplied by Blue Spark Technologies were installed.
Rochester First news station, WROC8, visited RIT AM Print Center during National Engineers Week. View the report and watch the footage titled 'RIT Hosts National Engineers Week' event: http://www.rochesterfirst.com/news/local-news/rit-hosts-national-engineers-week-event/985456790 .
These printed electronic tigers first made an appearance at last years' Imagine RIT. Read more about Imagine RIT 2017 and the Imagine RIT Tiger: https://tapecon.com/2017/06/21/imagine-rit-attendees-assemble-tiger-with-tapecon-printed-technologies/