During the major consolidation, renovation, and expansion project in 2012, Tapecon made the decision to relocate operations and staff from the Rochester facility to the improved and larger Buffalo headquarters. As part of the move, Tapecon donated the U.S. Custom House in Charlotte to the Charlotte-Genesee Lighthouse Historical Society on what was the year of the organization's 30th anniversary in order to ensure that an important piece of Rochester history remained in the hands of a group that could ensure its survival.
Tapecon has also made the decision to sell the remaining property.
FOR SALE - Tapecon location - property details
465 River St.
Rochester, NY 14612
Location - Charlotte community, located in epicenter of "Harbortown"
2.3 Acres - largest privately-owned parcel in the area
Genesee Riverview:
Next to Pelican's Nest Restaurant & across the river from Shumway Marine
Adjacent to Charlotte Lighthouse & Customs House Museum
Property meant for development opportunity

Additional available documents:
Survey of parcel
Phase II Environmental Site Assessment
Building drawing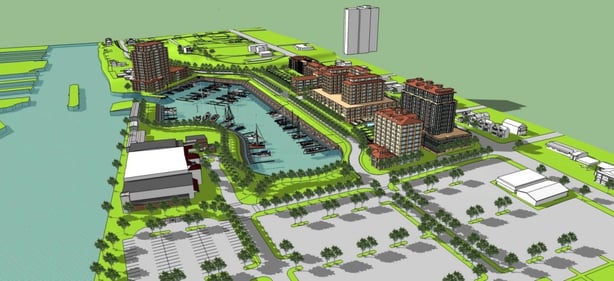 Port of Rochester - Marina Project details:
In 2008, the City of Rochester began working on a plan to improve the Port of Rochester through development that includes a new public marina. The project, per the city's website, has a number of goals that all aim to benefit the area:

Preserve and enhance the village character of Charlotte.
Create a family-oriented, four-season development.
Improve access into and out of the Port area.
Enhance economic development and business activity within the harbor-front village.
Improve the walkability and pedestrian safety of the area.
Protect and enhance the environmental, historic and cultural resources of the area.
Maintain and enhance the visual and physical access to the water.
Develop a mixed-use project balancing public uses with private development that expands the tax base.
Contact Info:
Steve Davis or Alan Davis
Tapecon Inc.
701 Seneca Street
Buffalo, NY 14210
716-854-1322
info@tapecon.com