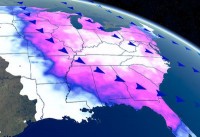 As most of you already know, winter storms have recently brought hazardous conditions across the mid-south and northeast regions of the U.S. These storms are not only affecting the local cities and towns where the storm is occurring, but many other businesses around the country!
Many local businesses are closed due to the weather conditions and are running extremely behind due to the recent string of winter storms. This is stopping production completely because employees are not able to work. The supply chain becomes interrupted in all industries.
Fed Ex is showing extreme delays to no service in the New England states as well as in the Mid-Atlantic and Southeast. Inbound and outbound shipments are being delayed across the Northeast. Winter weather send shipment delays across the U.S.
It is advised that businesses who are looking to send and receive shipments to affected cities should contact their vendors and FedEx to discuss the shipping delays and how they will impact your deliveries.
It is important to have a disaster recovery or backup plan for your business to react in time of crisis. Weather is a factor that doesn't have to directly happen to you to interrupt your day-to-day business process.
For more information about FedEx delays and services alerts, visit: http://www.fedex.com/us/servicealerts/