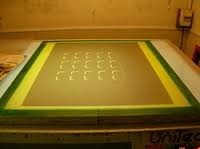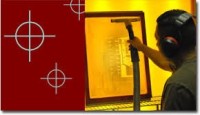 In April, Sefar visited Tapecon to talk screen printing, but more specifically, audit current practices and then improve by implementing the industry's best practices. Sefar is a leading manufacturer of precision monofilament fabrics for the screen printing market. With their profound understanding of applications, Sefar helps its customers to achieve optimum results in their industrial processes.
Overall, the representative from Sefar, was very impressed in the knowledge and tools that Tapecon currently utilizes in its screen making process. During the audit, we learned several ways to improve based on their advanced industry technology. One area that we particularly need to focus for consistent screen quality and to obtain the optimal exposure time is to more regularly perform a "Step Test". This test when performed periodically will ensure optimal screen exposure since bulbs will lose their intensity and need to be replaced. During this investigation phase, it was noted that we are using the correct tools for tension and smoothness of the emulsion coating. Tapecon will be setting a calibration schedule for our tools to guarantee the best output and performance measurement.
When screen printing, the type of mesh used is very important to the job. The main mesh that is used at Tapecon is appropriate for 90% of our jobs. Looking more closely at screen mesh thread diameter, a thinner thread provides great print quality, but is not as durable. A thicker thread provides poorer print quality in line definition, but is very strong and lasts longer. At Tapecon, we use a median thickness thread as our main mesh which is appropriate for 90% of our work. Specialty mesh fabrics will be used in more demanding applications.

We are honored to complete a successful audit, gap assessment, and training opportunity from Sefar. Tapecon looks forward to providing top of technology screen printing projects for our clients for many years to come!