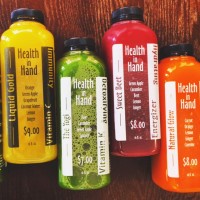 In the Food and Beverage industry, there will always be the need to stand out. A delicious recipe is a must, but having a winning brand appearance and label that is eye catching, will get you into your consumers' shopping bag!
Our friends at Clean Juice Bar and Health In Hand have recognized that the look of their products makes a difference to their consumers. They have worked with our design team at Tapecon to ensure that their brand appeal talks directly to the market that they are targeting.
Our Tapecon Quick Turn Juice Label Quoting Program, is designed to simplify your life and the label purchasing process. We bundle 30 minutes of graphic design time with a standard size clear label that will print in black or white ink. Create a remarkable juice label design for your product.
Here is what two of our customers have to say about this program:
"Thanks for all your help in changes, well wishes, and your quick response time. You've been great to work with!" - Kat Eckles
cleanjuicebar.com
"Love Tapecon and will definitely recommend to people who use your products!"
- Emily Wood
www.healthinhandsc.com/
Tapecon also manufacturers labels in full color at custom sizes and custom shapes. We can create just about any label you can dream up. For more information about compelling brand design and labels for Food and Beverage, contact Tapecon.