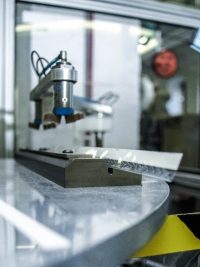 A current customer of Tapecon submitted a request asking for a converter that could build an existing product. The current product was built in Asia and could not keep up with volume demands. Tapecon saw this request as an opportunity to manufacture an off shore product in the USA and create a new account for business.
This product has a very unique construction and shape, zoned adhesive spaced out along one edge, angular fold through the center, and a pattered die cut along the other edge. This total construction included a half millimeter tolerance for all components. The part designed by Tapecon's customer would aid in the distribution of a powder type substance along an 11 inch web [printer]. This part had small independent fingers that would ride up on the threads of a screw type auger that would flick the powder type substance out from between each thread, moving the powder across the 11 inch web in a printer.
In two weeks Tapecon was able to match the volume the Asian supplier provided. Within an additional 3 weeks Tapecon's Engineers met with this customers' engineering team and reviewed an automated system that would exceed current demands and have substantial room for growth. Tapecon's customer approved this proposal and within 8 weeks Tapecon was meeting the global demands of this product.