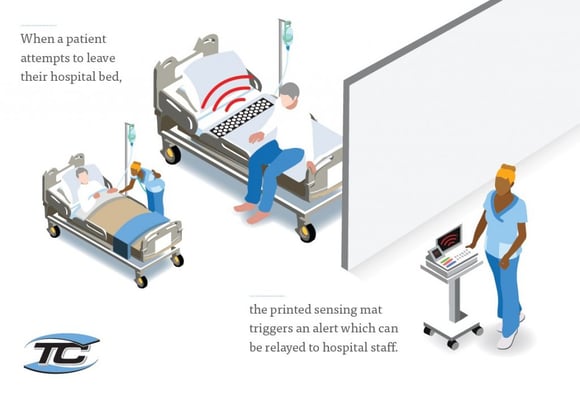 As a medical device manufacturer, you know patient safety is one of the most important aspects of the industry – you don't want to be responsible for a patient injury!
One way to improve patient safety is to decrease the number of falls from patients getting up without help. Wouldn't it be nice if healthcare staff was alerted before these types of falls could occur? Continue reading for an example of how printed sensors improved patient monitoring and fall prevention.
The Problem: Our customer, a healthcare distributor, specializes in fall prevention with a core belief in improving patient care. They recognize the industry's concern of patients falling and not getting attention fast enough. They needed a cost-effective method of being notified when a patient moved from a bed or chair. They contacted Tapecon for manufacturing help.
Our Process: Tapecon worked with this customer on providing a material and process to develop a solution. We researched materials to find the right combination of conductive inks and substrates to fit the application. Our engineers worked closely with this customer and together developed a system to trigger an alarm when a patient moved. To manufacture the device, we screen printed conductive and dielectric inks onto a polyester film and custom snaps were applied to attach to an alarm system.
The Result: The outcome was a printed sensing mat. The mat is placed on top of a patient support surface (bed, chair, etc.). Using pressure sensing technology, the mat can detect patient movement. If the patient attempts to leave, an alert is relayed to a caregiving staff.
The Benefits: This mat is cost-effective, making it more affordable for single patient use. It has no moving parts which increase the ease of use and reliability. The device also helped the healthcare distributor's customers save money and reduce falls.
Are you interested in improving your patient monitoring and safety? Contact Tapecon today at info@tapecon.com to get an estimate for your application.