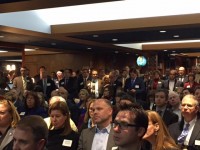 Buffalo Niagara Partnership members and elected officials gathered for the 2016 Regional Advocacy Agenda addressing new priorities for 2016. Chair of the Manufacturing Council, Tapecon's President Steve Davis, spoke to the need to support federal Pell grants to better fund training and job readiness for the manufacturing workforce.
"We have the opportunity to align education attainment levels with current and future demands of regions employers." The Manufacturing Council has named workforce development as a top initiative for 2016.
The NYS Agenda estimates 17,000 job opening in location manufacturing in 2020 that will be good-paying positions and will require trained workers who have earned certificate programs to master's degrees.
To read the full story and listen to a clip of Steve Davis addressing the Advocacy Agenda for 2016, click the following link: http://news.wbfo.org/post/partnership-agenda-seeks-regulatory-relief
All 2016 Council agendas for the Buffalo Niagara Partnership including the Manufacturing Council agenda can be found by clicking the following link: http://www.thepartnership.org/documents/CouncilAgendas-11_30_15-FINAL.pdf
Photo Credit, Mike Desmond, WBFO News.