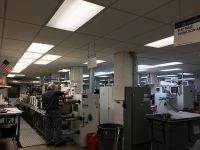 After another year of replacing old light bulbs, Brian Pillo, Tapecon's Facility Optimization Supervisor researched the options for upgrading Tapecon's facilities to LED high efficiency light bulbs. Working directly with National Grid's LED Lighting Incentives program, Tapecon was able to upgrade every light within the facility to DLC listed energy efficient bulbs.
Back in 2012, when Tapecon merged their Rochester factory in with their Buffalo facility, all lighting bulbs were upgraded from T12 bulbs to T8 fixtures. This was a large upgrade for the facility at the time, but with changing technologies, 2016 brought the desire for new LED lighting fixtures.
Our contact, Dan Keating, from National Grid was able to make the process of upgrading Tapecon's lighting within their facility seamless with an approved Energy Efficient Lighting Systems grant. The grant was designed to cover the cost of the LED lightbulbs and the labor to replace the bulbs. To receive approval for the grant, Tapecon had to provide proof that the upgraded lighting system would save the required amount of energy annually. We also had to identify the number of light bulbs that would be replaced to the high efficient bulbs as well as identifying the Watts before lightbulb replacement, Watts after lightbulb replacement, and the estimated savings per day. With support from National Grid's energy efficient bubs grant, every lightbulb throughout Tapecon's facility was replaced including: area fixtures, light tables, mill lights, bathrooms, workstations, offices, conference rooms, lunchroom, and reception waiting area.
Tapecon purchased 2,500 LED energy efficient bulbs to replace all lightbulbs throughout the facility. The old florescent lightbulbs produced 32 Watts of power per bulb. The new energy efficient bulbs are estimated to provide 13 Watts of power per bulb. That factors to an estimated savings of 410,644 kWh (Kilowatt Hours) per year, which is a savings of 451,655 pounds of CO2 per year. All of the LED light bulbs purchased are 5000 Kalvin, bright white, which are soft in color and easy on the eyes. The 5000 Kelvin bulbs will assist with color matching, monitoring and color management within the printing side of business.
In addition to the LED bulbs energy efficiency, they also have an increased life span. Our old florescent lightbulbs would last 1-1 ½ years maximum. With the new light bulbs, the estimated lifespan is 5.8 years if ran 24/7. With a factory that runs 3 shifts, but not 24/7, we have decided to add occupancy sensors throughout our facility to save on power and bulb life.
With the completion of the upgrade to LED energy efficient light bulbs, Tapecon has a great amount of energy cost savings. Tapecon is proud to operate as sustainable business operation.