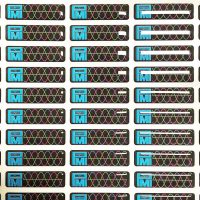 Commercial Printing Project
Power Metrics International (MHT Lighting)
Tapecon had a current client reach out to their commercial printing customer service representative to inquire about a job for their subsidiary sister company. The sister company, Power Metrics International (PMI), is a manufacturer of power management optimization systems for commercial applications. PMI was looking for a commercial printing converting company to print and manufacture their Lexans labels. Tapecon quickly became involved with this job to see what it would take to complete their request and fulfill the order.
Power Metrics' Lexan labels were digital printed with a 4 color process printer. The next step for the Lexan label project was to be sent to the plotter for cutting. Finally, the labels were sent to have a dome finish added. As a result, Tapecon supplied Power Metrics with the Lexans labels individually on sheets.
The final project took 5 business days to complete, start to finish. All customer orders that Tapecon fulfills are customized and can be modified to meet the regulations set by your industry. Tapecon understands that all needs are unique and individual to companies, based on products or services offered. Contact Tapecon to meet your commercial printing needs and improve your product design.