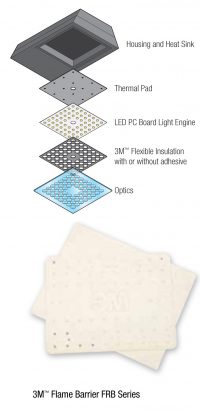 Electrical Flame Barrier Technology provides very high flammability and ignitability resistance for LED Luminaire designs and electrical devices. This thin flexible insulation technology has excellent arc and track resistance, with good dielectric strength and thermal performance to safely contain electrical hazards. Tapecon has partnered with 3M to provide converting of the Flame Barrier material to ensure safety requirements for LED Luminaire Manufactures.
The Electrical Flame Barrier Material is perfect for applications including:
General purpose lighting luminaires
Electric and electric hybrid vehicles
Appliances
Electrical Devices
This flexible insulation is made for OEM electrical flame barrier applications. The material is primarily made of inorganic materials that are intrinsically flame retardant. This material meets specific UL standard, UL 94 5VA.
Contact Tapecon to leverage our material expertise and superior converting solutions for LED Luminaire Manufacturing.