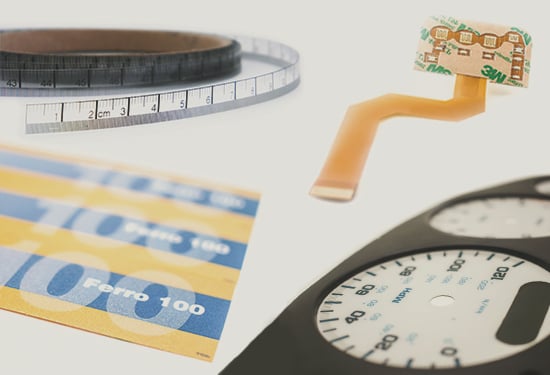 Tapecon helps product managers increase product competitiveness by manufacturing durable labels and graphics for medical and industrial applications. When designing a decal or overlay for your product, you can increase the durability through material and printing choices. Tapecon can manufacture decals and overlays with that are resistant to weather, UV, fading, chemicals, abrasions and more.
The Printing Process – The printing process chosen for manufacturing can have an effect on the durability of your graphic. Screen printing is a particularly durable printing method because of the deposition thickness of the ink. Using screen printing methods allows more ink to be laid down onto the substrate which contributes to its ability to withstand the elements.
The Substrates – The substrate (material your decal or overlay is printed on) can make a big impact on the ability of your graphic to withstand the elements. Polyesters and polycarbonates are useful for indoor durability and vinyl substrates for outdoor durability. Tapecon can use our material expertise to assist in choosing the best material to print your graphic on.
An Over-Laminate or Coating – An over-laminate is a clear material added to the top of your label after the ink is printed on the substrate. Coatings are liquid coverings applied to the surface of the label. Including either an over-laminate or coating on your graphic can increase durability by protecting the ink underneath.
The Adhesive – If durable means you need your label or graphic to stick to your product for its lifespan, you can use a permanent adhesive, formulated specifically for the surface being applied. Tapecon can help you with adhesive selection depending on what your graphic needs to stick to.
Adding a durable graphic or label to your product can help increase your market competitiveness by having your brand stand out amongst your competition. Contact Tapecon today to discuss manufacturing your durable decal or overlay!