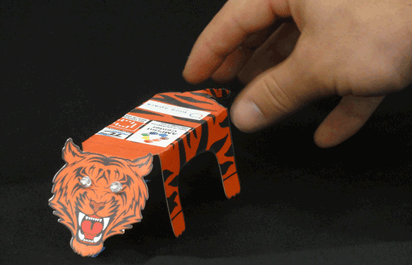 As a part of our community outreach and to better educate the population about Tapecon's capabilities and applications, we have brought back the ever popular Printed Electronics Tiger.
Our Printed Electronics Tiger was originally designed for Imagine RIT 2017 and was brought back to Imagine RIT 2018. Imagine RIT: Innovation and Creativity Festival is a campus-wide event that showcases the innovative and creative spirit of RIT students, faculty and staff. Visitors experience the breadth and depth of RIT through interactive presentations, hands-on demonstrations, exhibitions, and research projects set up throughout campus.
Tapecon also debuted the Printed Electronics Tiger at Buffalo Mini Maker Faire 2018. The Buffalo Mini Maker Faire is a community-organized, family-friendly celebration featuring local do-it-yourself science, art, rockets, robots, crafts, technology, music, hands-on activities, and more.  It's an event where people show what they are making and share what they are learning.
During each of the events, Tapecon representatives worked with the attendees to complete the printed electronic connections by adding a battery to allow Tiger's LED eyes to illuminate, once the electronic connection was made (by squeezing the Tiger's tail.) This printed electronics demonstration allows the user to see how printed electronics can work on a simple substrate (like paper) to illuminate LED lights, after the electronic connections were made with battery power.
We hope that our printed electronics demonstration allows children to understand and use their minds to be more creative and learn how they can get involved with STEM and manufacturing.
Contact Tapecon to learn more about our printed electronics capabilities.