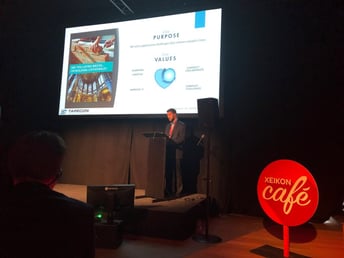 Steve Davis, President of Tapecon, Inc, spoke at Xeikon Café Europe this week. Xeikon Café is an industry event showcasing Xeikon's digital print technology and applications. Tapecon installed a Xeikon press in 2009 and Steve was invited to speak at the café as a "User" presenter.
Steve's presentation "Evolution through Innovation: 100 Years of Fostering Innovation for Brand Owners," provided attendees insights into Tapecon's Innovation Process. Steve also discussed how converging technologies can help brand owners innovate. This event is an excellent opportunity to connect and collaborate with other industry professionals and learn more about emerging digital print technologies.
Xeikon Café Europe is taking place in Antwerp, Belgium, at Xeikon's headquarters from March 26 – 28, 2019. Steve's presentation happened on Wednesday, March 27 at 12:30 PM local time.
About Xeikon Café:
Xeikon Café is THE multi-vendor industry event dedicated to end-to-end digital production where attendees can learn about complementary printing techniques, connect with other industry innovators and discover new techniques and applications. With a strong focus on education, inspiration and networking, the event is designed to help printing professionals understand, evaluate and experience digitalizing print manufacturing, and enable them to make conscious business decisions.
Through demonstrations, presentations, workshops and discussions, visitors receive first-hand actionable information and advice on industry innovations and trends, and how these can help improve their bottom line. How to profitably produce in a digital way, is showcased by leading industry suppliers in software, workflow, consumables, media, digital printing and finishing solutions dedicated to digital manufacturing.