One of the greatest challenges facing manufacturers today is workforce management. Between the long-term skills gap and the short-term labor shortage, recruiting and retaining manufacturing employees is a top priority for many companies.
Manufacturing cells (also known as celluar manufacturing) is where the resources – including labor, equipment, and raw materials – are consolidated in a single area for production. Workstations are strategically placed in sequential order, allowing the product to be efficiently built step by step. This approach eliminates wasted movement and minimizes assembly time. It also allows the same technician to oversee the entire production sequence. The continuous flow of work cell manufacturing improves efficiency, quality assurance, and more.
Manufacturing cells can positively impact the workforce in a variety of ways. Primarily, it creates a more appealing work environment. Rather than performing the same monotonous task in an assembly line, operators have the opportunity to learn new skills and see their products come together through multiple processes.
Other benefits for the workforce include:
Enhanced morale –

Manufacturing cells

offer operators more variety of tasks and flexible assignments. These attributes can improve motivation, career satisfaction, and company loyalty.
Identify high-performing employees – Since cells can be evaluated independently, companies have an easier time recognizing and rewarding high-performing employees. Conversely, low-performing employees have a more difficult time hiding within a cellular environment.
Goal setting – Operators and cell groups can set performance and improvement goals, then objectively track their progress.
Encourage employee input – Cell operators become the experts of their part family and processes. Companies can tap into this experience to gain practical ideas for improving operations.
Teamwork – Working in a smaller group makes employees feel more valued, involved, and part of a cohesive group.
Increased autonomy – Employees can take ownership and pride over the quality and productivity of their cell, leading to a sense of autonomy and improved self-management.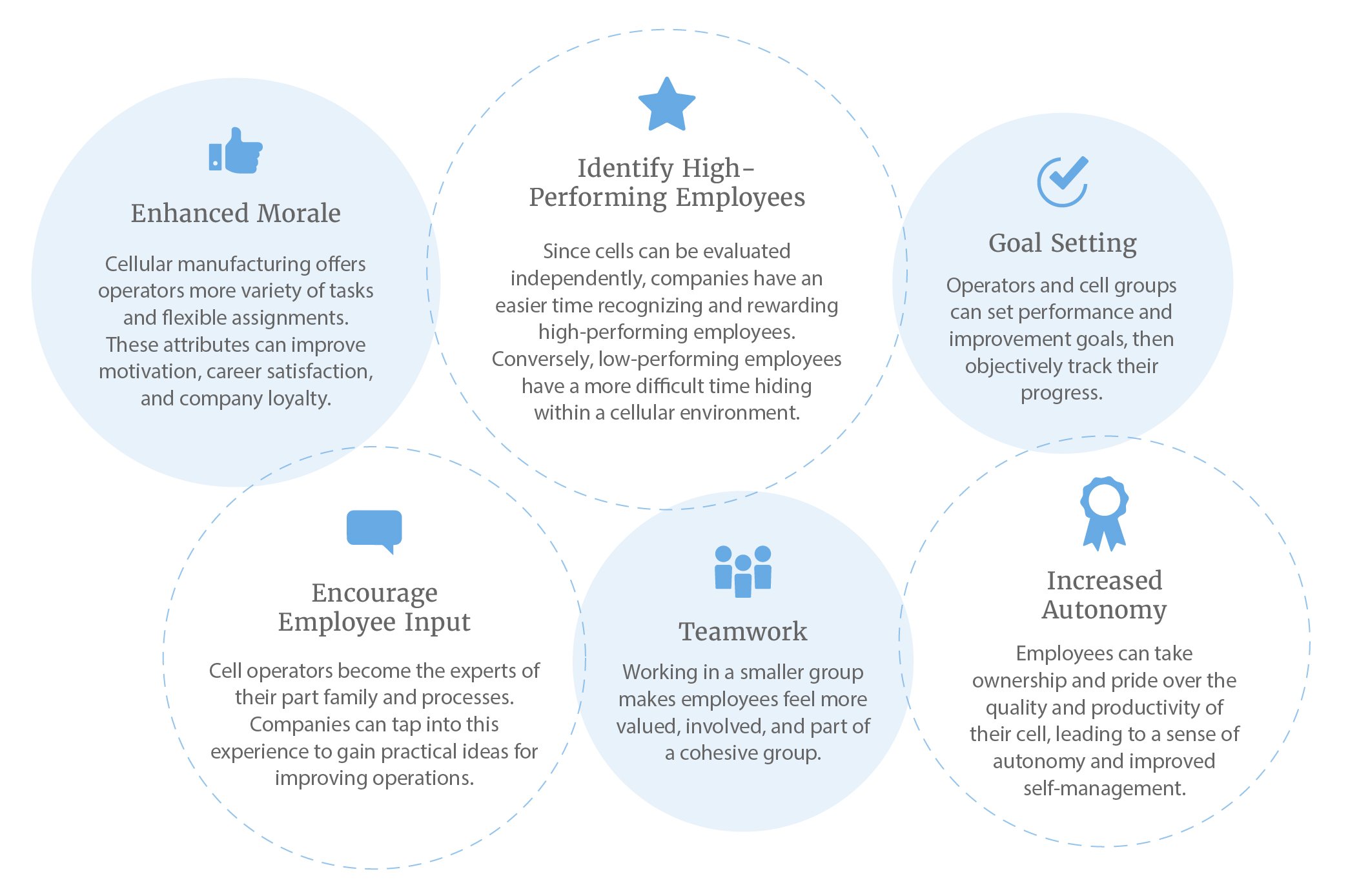 In-house versus outsourcing Manufacturing cells
In-house manufacturing cells offer many benefits, but it's not always a practical solution for companies based on existing infrastructure, the capital required to transition production methods, or other reasons. In many cases, OEMs can reduce costs and simplify internal operations by outsourcing manufacturing cells. By working with a manufacturing partner, companies can completely outsource production management, including supply chain, packaging, and shipping.
Outsourcing manufacturing cells can be a strategic option to continue a legacy product without additional capital investment, free up capacity for new product development, or dedicate internal resources (including personnel and facility space) to core manufacturing.
Outsourcing manufacturing can also be a cost-efficient option for low-volume components or unique product builds. Advanced manufacturing partners can offer fractional work cells, allowing customers to reduce costs by sharing equipment and shifts.
Other benefits of outsourcing Manufacturing cells include:
Focus on core competencies – Outsourcing to a trusted manufacturing partner frees up internal team members to focus on what they do best – design, engineering, testing, marketing, etc.
Simplify supply chain management – OEMs can offload the burden of managing multiple vendors and dealing with ever-changing lead times. Advanced manufacturing partners may also have closer relationships and more buying power to control material costs and avoid supply disruptions.
Access to specialized expertise – Advanced manufacturing partners with materials, printing, and converting expertise can provide an extraordinary value, including making recommendations to improve product design and quality, accelerate speed to market, improve manufacturability, and more.
Built-in quality and safety standards – A reputable manufacturing partner will have a proven Quality Management System (QMS) in place along with risk management plans and appropriate accreditation from ISO, FDA, and other organizations.
Reduced labor costs – Not only does outsourcing reduce the cost of labor on the floor, but it also minimizes HR resources, training, management time, overtime pay, sick and holiday pay, and other labor costs.
Seamless scaling – Advanced manufacturing partners are equipped and prepared to quickly scale production, allowing OEMs to be more flexible and agile in reacting to the market's ever-changing demands throughout the product life cycle.
Reduce equipment costs – Outsourcing manufacturing eliminates costs such as equipment purchases, maintenance, depreciation, screens, plates, and other fixtures.
Streamlined processes – Using a single-source manufacturing partner can reduce supplier audits, minimize variability, consolidate accounting, etc.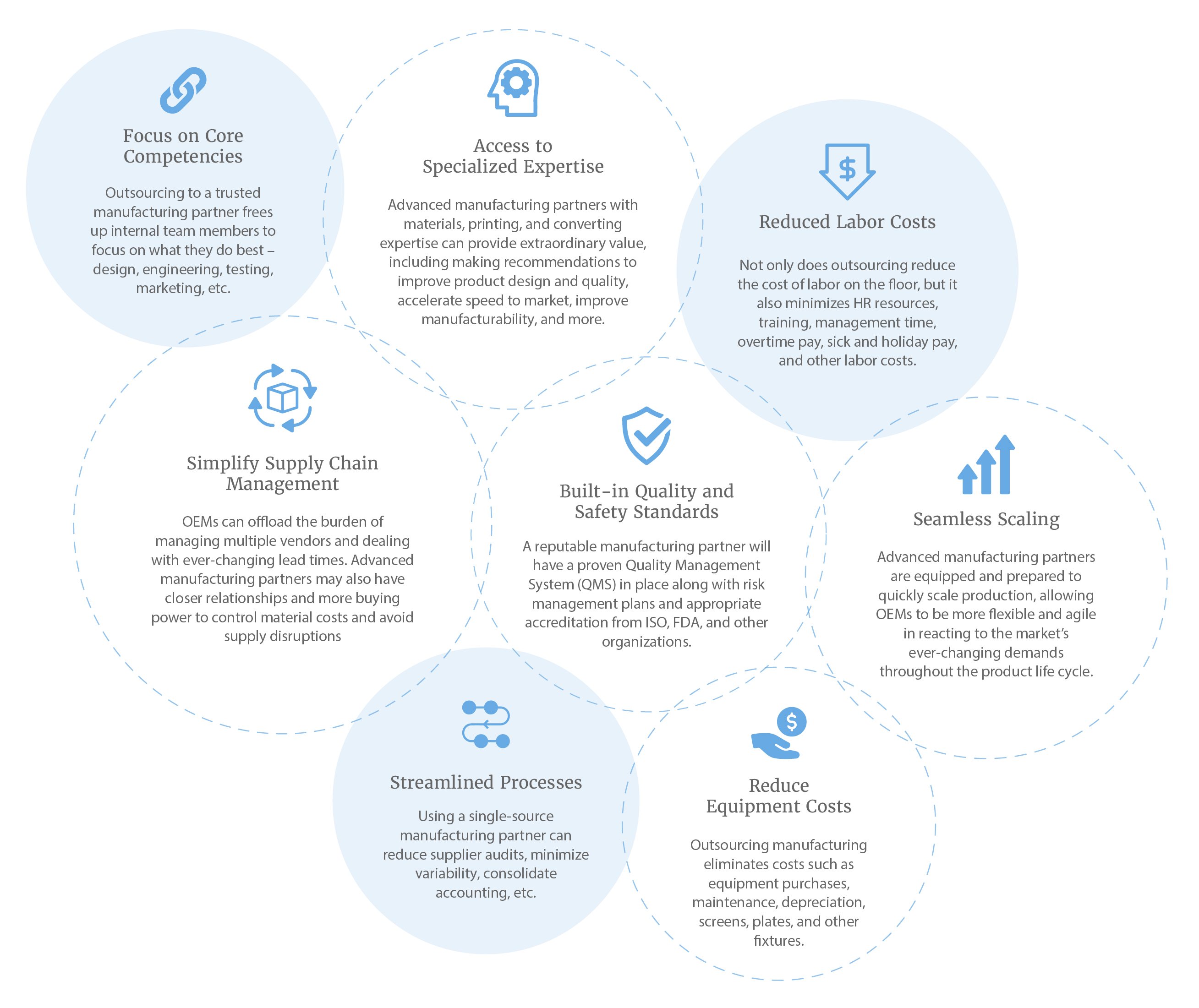 Let Tapecon make it.
With over 100 years of manufacturing experience, Tapecon works with product teams to solve challenges, create products, and enhance lives.

Contact Tapecon for a free, cross-functional discovery engagement to determine if outsourced manufacturing cells can deliver the strategic benefits and cost savings you need in today's competitive market. We can also discuss a consultative feasibility study, including a portfolio review and recommendations for outsourcing implementation.
Subscribe To Our Monthly Newsletter